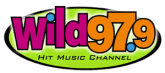 This station had been KTNT and at 97.7 since 1988. It moved to 97.9 to boost its power to 6,000 watts. One year before the flip, then-owner Caribou Broadcasting, relaunched it as KCYI "The City 97.9" making it a Urban AC/Jazz hybrid.
Caribou was bought by Citadel Broadcasting (along with four other stations in Oklahoma City) in January of 2000.
On Monday, January 24 at noon, the station began stunting with a computerized voice counting down. Along with the countdown were jokes and jabs at the competition. Examples:
"Linda Cavanaugh is a fox." (She is a longtime news anchor at KFOR-TV 4 in Oklahoma City)
"Tell someone about this. In fact, someone tell Mike McCoy" (McCoy is the long time program director of CHR KJYO "KJ-103")
"Jeff Couch to Classic Rock courtesy phone". (Couch is the PD of AC KMGL "Magic 104" and Classic Rock KRXO "107.7")
Finally, on Thursday, January 27, 2000, the stunting ended and at 6:45 a.m. "Wild 97-Dot-9" was born. As heavy snow hit the Oklahoma City area, the new station
signed on with Tone Loc's "Wild Thing." The next month, the station's call letters were changed to KKWD.
The station has seemingly done its job. It knocked Clear Channel CHR KJYO from its stronghold of top spot in the ratings enabling Citadel sister rock station KATT to climb to number one. Interestingly, in the Fall 2001 Arbitrons, KATT held on to number one,
followed by KKWD at number two.
Many thanks to OKCityRadio.net for contributing this switchover, the logos, and the summary