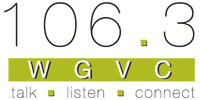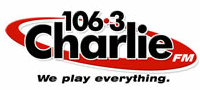 In late November 2006, a computerized "countdown" was broadcast on 106.3. The countdown lasted about a week. It's purpose was to countdown until a new station would emerge. During the countdown, some various phrases/quotes from many sources (like movies, music) were played every 30 seconds for the duration. The new format was GreenStone Media's female-oriented talk, known only as "106.3 WGVC."
On August 6th, 2007, it was confirmed that GreenStone media, the main provider for WGVC's programming, would cease operations on August 17th, 2007. On August 18, the station started playing a satellite feed of various genres music, including rock from the 1970s and 1980s ("106.3 The Big Hair"), boy band music ("Backstreet 106.3"), a mix of rap and hip-hop, leaning towards old school rap ("Booty 106.3"), country ("Cryin' County 106.3"), and even Christmas music ("Santa 106.3").
On August 20, 2007 at 12:00 noon ET, a new radio station emerged. Its now called "Charlie FM" with an Adult hits format based on sister stations in Portland and Madison along with similar named Mike in Boston and Simon in Greensboro.
Summary courtesy of Wikipedia.