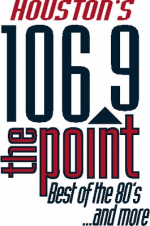 Previous Format: Christian "106.9 The Word" KHHT
New Format: 80s Hits "106.9 The Point" KHPT (Stunted for week as KZJZ)
Date & Time Of Change: September 28, 2000
More Info: Wikipedia
fter weeks of redirecting listeners to 1070 AM, Alan Lee signed 106.9 The Word off the air at 12 midnight with a couple verses from the Bible. Serving as Houston's commercial FM religious talk outlet, the station usually finished at the bottom of the ratings despite it's decent signal. Cox acquired the station through a trade with Salem who acquired Atlanta properties in exchange for the 106.9 station. After a week of stunting as "MP3 Radio" and "Radio Free Houston" under the KZJZ call letters, an electronic voice countdown reached 1 and the new "Jazzy 106-9" signed on. However the smooth jazz format proved to be a stunt as Kenny G's "Songbird" lead into the birth of Houston's '80s station, "106-9 The Point". The KZJZ calls were later replaced with KHPT. The first song on KHPT was "Don't You Forget About Me" by Simple Minds.