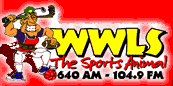 Citadel Broadcasting's "The Sports Animal" (WWLS 640) began to simulcast its Sports-Talk format on KLGH 105.3. The station's current FM simulcast, WWLS-FM 104.9, while still simulcasting WWLS at the moment, would flip to country a few days later. Though the dial position of the FM simulcast is changing, the station continues to broadcast on WWLS 640.
Until this week, KLGH was a Contemporary Christian station. Citadel had agreed to purchase the it from Kingfisher County Broadcasting for $3.1 million. KLGH's metro coverage is significantly less than that of WWLS-FM, as the 105.3 signal only reaches the northwestern suburbs of Oklahoma City. This signal, however, fills a hole in WWLS 640's directional antenna pattern that WWLS-FM could not. Listeners in downtown Oklahoma City who cannot receive KLGH can still hear the station on 640 AM
Many thanks to OKCityRadio.net for contributing this switchover, the logos, and RadioEmporium.net for the summary .