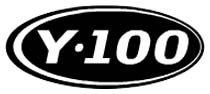 Previous Format: Alternative "Y100" WPLY
New Format: Urban "100.3 The Beat" WPHI
Date & Time Of Change: February 24, 2005 at 11:50pm
For years WPLY stuck out like a sore thumb in Radio One's portfolio. One of the few non African-American targetted station in the company, radio insiders were constantly speculating on when the Alternative Rock of Y100 would be no more.
In early 2005, Preston Elliott and Steve Morrison, the morning hosts on Y100 announced they were moving to crosstown Rock 93.3 WMMR following the expiration of their contracts. Faced with either retooling the station or moving in another direction, the decision was made to go the cheaper route. Following Preston & Steve's final show, where they announced that they were moving, the station continued on as normal until noon when middayer Bret Hamilton said goodbye and the station went jockless for the remainder of the day.
At 11:50pm, the song that became the symbol of Alternative Rock in Philadelphia, Pearl Jam's "Alive" brought Y100 to a close. That song, was the first and last song heard on crosstown 103.9 WDRE during its run as a modern rocker. Following WDRE's demise, many of its porgramming and on-air staff moved over to Y100, including PD Jim McGuinn.
Related Changes: Y100 Announces Format Change