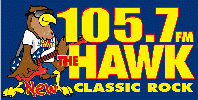 After years of planning, the 105.7 frequency took to the airwaves in Manahawkin, NJ for the first time in March of 2002. For its first month of existence, WCHR-FM simulcasted sister CHR "B98.5" WBBO.
The long running plan was for a Classic Rock station to occupy the frequency. Back in 1999, when the station was originally slated to debut, a number of billboards went up proclaiming "Bruce is Coming" with a hawk playing a guitar. The Bruce reference was for local idol Bruce Springsteen. The station's website was even fully designed. However, the owners had been building the station's antenna without proper FCC approval. Getting back on track took some time, prolonging the launch.
On April 15, 2002, 105.7 finally debuted its Hawk format similar to ones launched in the past year by sister stations in Trenton and Allentown, PA. First song, not surprisingly was Springsteen's "Born in the USA".