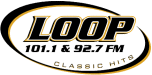 In 1999, the company now known as Sierra H Broadcasting signed on KESP 101.1 FM in Payson, AZ. The format was Classic Hits (a.k.a. a lighter version of Classic Rock) under the name "Loop 101" (which, probably not coincidentally, is also the name of a then-being-constructed freeway in the Phoenix area.) The call letters changed to KAZL in early 2000, and at some point, K224CJ 92.7 FM (a 10-watt translator broadcasting from South Mountain in Phoenix) and K292DF 106.3 FM (a 10-watt translator located in Flagstaff, AZ) began simulcasting KAZL. The idea was to provide an alternative to Sandusky's Classic Rock KSLX 100.7 FM. However, Loop 101 rarely made an appearance in the Phoenix ratings.
On June 18, 2002, at 5pm, "Loop 101" came to an end. It was replaced by a stunt format known as "Commercial 101.1 & 92.7 — All Commercials, All the Time". It featured a 30-minute loop of classic and current commercials. The "rationale" communicated to listeners (via an "announcement" from PD Steve Szalay) is that because the most successful stations play lots of commercials, a station playing non-stop commercials would skyrocket to the top of the ratings in no time at all.
Then, on Friday, June 21, 2002 (the first day of summer — but of course that doesn't mean much in Phoenix), at 5pm, "Energy 92-7 & 101-1" (also called "Energy-Arizona", which allows the name to include 106.3 FM in Flagstaff) made its debut. Energy offers what is being called a "pure dance" format. It is essentially a clone of Big City Radio's "Energy 92-7 & 5" in suburban Chicago, which is not a surprise considering that Chris Shebel (PD of Energy-Chicago) is consulting Energy-Arizona.