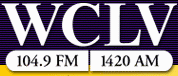 What may go down in history as the most complex programming swap took place in Cleveland at the stroke of midnight on July 3, 2001. Triggered by a three way ownership swap involving Radio Seaway, Salem Communications, and Clear Channel the changes went down as follows:
1420 WHK Cleveland and 98.1 WHK-FM Canton's programming moved to 50kw 1220 in Cleveland.
1220 WKNR Cleveland's sports programming moved to 850 in Cleveland.
850 WRMR's Cleveland's Standards programming moved to 1420 Cleveland as WCLV.
96.5 WKDD Akron moved to 98.1 in Canton.
104.9 WAKS "Kiss-FM" moved to 96.5 in Akron with a new tower covering the entire Cleveland metro.
95.5 WCLV Cleveland's Classical programming moved to 104.9 Lorain as WCLV-FM
95.5 debuted a new Contemporary Christian format as "95.5 The Fish" WFHM.
WCLV moved its Classical programming to the weaker 104.9 signal in an attempt to preserve the longevity of the format in a day and age when Classical radio stations are rapidly disappearing from the radio dial. They put the money made from the sale of the 95.5 signal to establish a nonprofit foundation that will enable the 104.9 and 1420 signals to operate for a long time to come.