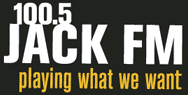 Throughout the spring and early summer of 2005, Infinity spread the highly publicized "Jack FM" brand to many of the company's less successful FM outlets, citing early success at KJKK "100.3 Jack FM" in Dallas.
Las Vegas was just one of many markets targetted by Infinity for "Jack FM". One of Infinity's stations in Las Vegas was KMZQ, which began as soft AC "Klassy 100" in 1989 before evolving into "Lite 100" a few years later. However, despite additions such as the John Tesh Radio Show and consulting by industry expert Gary Berkowitz, KMZQ was unable to beat Clear Channel's market leader, KSNE "Sunny 106.5". These factors and others led KMZQ to become Infinity's weakest Las Vegas outlet, making it victim to Jack FM.
And so, on June 24, 2005 at 2:00PM, KMZQ flipped to a stunt of Christmas music. At 2:45PM, the station switched over to a stunt of movie theme songs, with the announcement that KMZQ had been gambled from "a guy named Joel" (possibly a play on Infinity's CEO Joel Hollander) to "a guy named Jack" during a poker game at the MGM Grand. This announcement led to the launch of KKJJ, "100.5 Jack FM".
Summary contributed by Justin Tardiff.