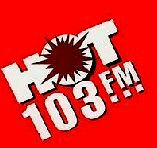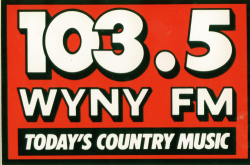 Previous Format: Dance CHR "Hot 103" WQHT
New Format: Country "Country 103.5" WYNY
Date & Time Of Change: September 22, 1988 at 5:30pm
More Info: Wikipedia
In 1988, as part of the purchase of RCA by General Electric, NBC was required to sell off their radio holdings. Emmis Broadcasting acquired NBC's two frequencies in New York City to upgrade their holdings in the market, but were required to then sell the other stations. While 1050 WFAN moved to 660, Emmis moved its Rhythmic CHR WQHT "Hot 103" to the more powerful 97.1 signal in order to better compete against Z100 and Power 95. The 103.5 frequency was spun-off to Westwood One, along with the WYNY call letters and country programming.
Related Changes: 97.1 WYNY Becomes Hot 97 WQHT